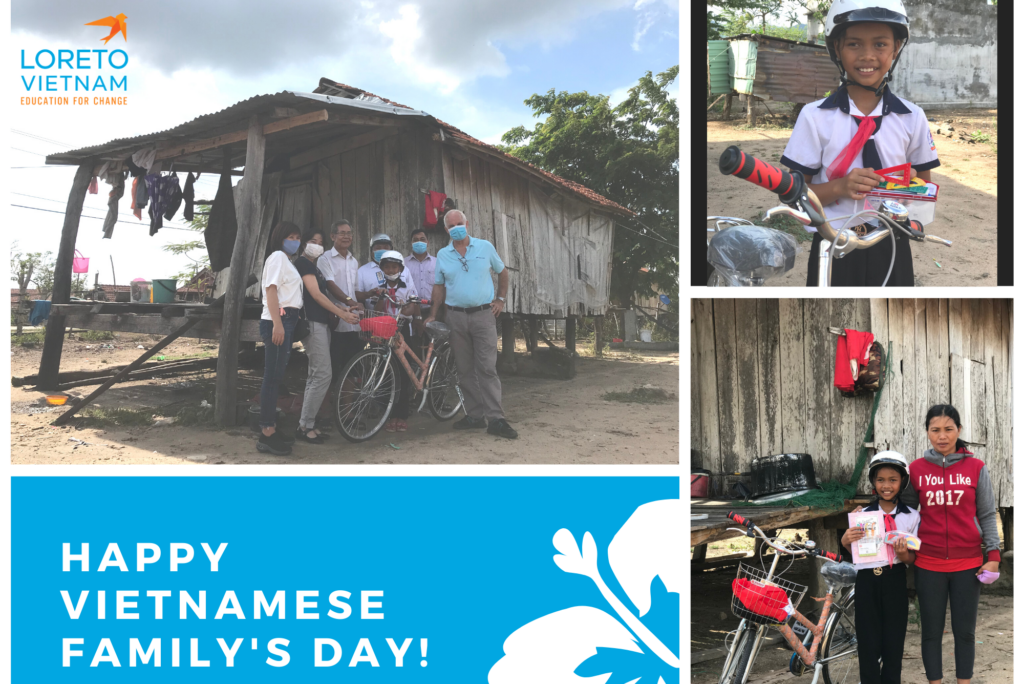 A Happy Family for a Happy Child's Dreams
Meet Lê H'Anh, a Year-5 student at Ea Ba Primary and Secondary School, Ea Ba Commune, Phu Yen province. Visiting her home, we were touched by how H'Anh and her family are overcoming their life challenges. She is living with her grandfather and her mother in a shanty house, yet, it's always full of laughter and love.
This little girl comes from the Ede ethnic group in an underdeveloped remote area of Vietnam. Every day she walks an hour to school and back home. To shorten this distance and enable her a safe and comfortable ride to school, Loreto Vietnam gave her a set of bicycle and helmet in our 'Wheels for Education' program under the partnership with Mary Ward International Australia, Profectus Group and Future.Travel.
Right in her simple stilt house, she joyfully shared us her very beautiful dream. That is to become an architect to design schools for all the children and houses for her family and all others most in need all over Vietnam. Nothing could describe her surprise and happiness when we gave her an extra set of technical rulers, a set of pens, a drawing book and those necessary for her to start fulfilling her dream. Her grandfather and mother both laughed out and said they couldn't wait to live in that beautiful house of her design. 'Hey girl, keep dreaming and living your full dreams. Let's try our best to make them come true. Your dreams are ours,'
Definitely, a happy family is always the root and foundation of a happy child's dreams. On the occasion of Vietnamese Family's Day, 28th June, we would like to congratulate H'Anh, all our children and their families on building and nurturing happy dreams together. And yes, all the grandparents, parents, aunties and uncles are always joining you till the day all your happy dreams become happy reality for you and all the communities you're living in.
For your further information, in our 25-year journey in Vietnam, Loreto Vietnam has helped more than 70,000 disadvantaged children fulfil their education dreams through 165 sustainable projects. Read more about our "Education for Change" motto here