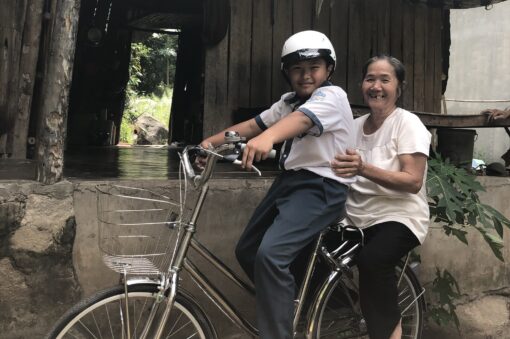 Wheels for Education – A safe and enjoyable ride to school
Meet Dat, a Year 6 boy, and his grandmother, Mrs. Vang, aged 68. The two of them live together in a temporary shelter on a hilltop. Mrs. Vang has taken care of Dat since his parents divorced some years ago. The poverty and lack of basic living commodities in their shelter cannot take away their laughter and love for each other. Mrs. Vang walks her lovely grandson 5 km to and from school each day. Through the work of Loreto Vietnam, a small miracle happened. A new bicycle and helmet provides Dat a quicker, safer, and much more enjoyable ride to school. Dat told us he would teach his grandmother to ride this bicycle too. Mrs. Vang burst out laughing, saying she was too old for this! But Dat assured her it would easy; he would help her every day, as he pursued his dream to study hard, find a good job, and take care of her in the future.
Like Dat, another 3,500 poor children have been supported by Loreto Vietnam to transform their journey to school under the Wheels for Education program. Easy bicycle transportation (and a new helmet!) ensures students attend school regularly and travel safely. A new bicycle also supports other family members, like Mrs. Vang, with family duties and market trips and benefit many village families. Read more abour our program here.