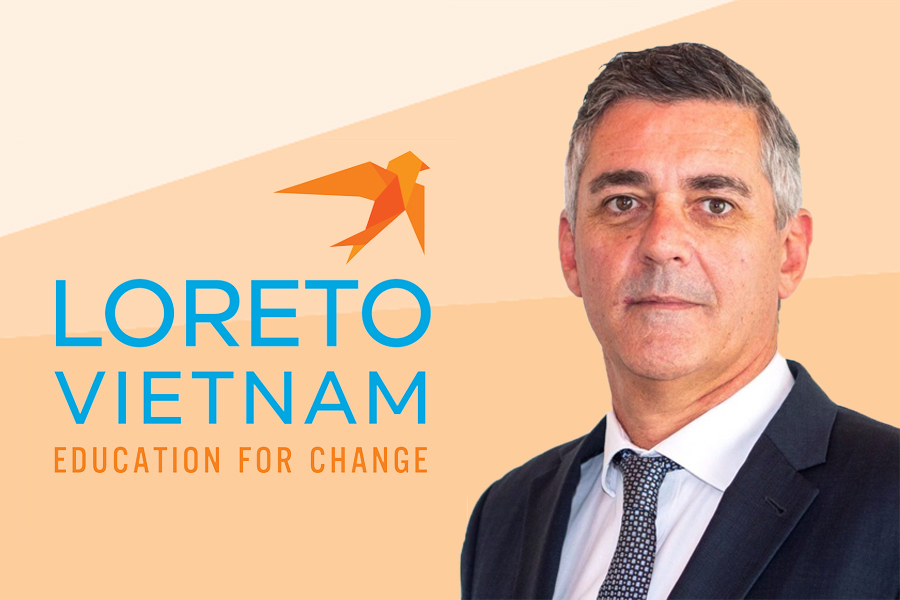 Loreto Vietnam's new Board Chair shares a special message
Loreto Vietnam would like to introduce to the Loreto family, friends and supporters our new Advisory Board Chairperson, Mr. Jason Turnbull.
We would like to share Jason's message to our friends and supporters:
"Children are like buds in a garden and should be carefully and lovingly nurtured, as they are the future of the nation and the citizens of tomorrow", as quoted by many. Loreto Vietnam have always been and will be devoted and committed to all children-oriented efforts with a strong emphasis on education.
Operated since 1997, Loreto Vietnam has transformed the lives of more than 60,000 underprivileged children through 103 projects with 95 schools in seven provinces and many other initiatives to help our kids overcome daily challenges in getting to or attending school for a better education and future.
As the new chairperson of Loreto Vietnam's Advisory Board, I care deeply about the youth of Vietnam and the power of education for change, in a healthy and safe environment. Our Board and the Loreto Vietnam team have recently been collaborating on the development of our Vision, and Strategy, to enable us to maximize our reach, and support through initiatives to bring Loreto Vietnam's efforts closer to children and communities most in need, which we look forward to sharing with everyone as soon as possible.
The Board, and myself personally would to take this opportunity to thank Dr. Roderick Crouch for his efforts, and contributions over the past 2 years to Loreto Vietnam as Chairperson and Board representative, the achievements of Dr. Rod has ensured that many children will benefit greatly, and be provided with tremendous opportunities to develop as a result. We would like to wish Dr. Rod, and his wife Debra every happiness, and success as they embark on their next exciting chapter, thank you.
Given the current global crisis being faced by everyone, including Vietnam, our current projects are being impacted due to restrictions in place, however as soon as the current crisis is behind us we will resume all planned initiatives. During this period the team at Loreto Vietnam will continue to develop initiatives, and work with our kind supporters, so that we can be ready to deploy, and support the children of Vietnam as soon as possible. Therefore, your much welcomed continued support is imperative to Loreto Vietnam's success.
We greatly appreciate all the partners, donors, supporters and volunteers for your heartfelt support during the past years, and your continued support for Loreto Vietnam. I am personally looking forward to meeting with as many supporters as possible, sharing our strategies, and success stories, and receiving feedback from everyone. We also hope to welcome you all to the field trips with our children and communities very soon." – Jason Turnbull, April 2020.
Learn more about Jason and the Loreto Vietnam Board here.