The letter from the Former Chair of Loreto Vietnam's Advisory Board
THANK YOU, Dr. RODERICK CROUCH.
To all Loreto family, friends and supporters, Dr. Roderick Crouch- Loreto Vietnam's Advisory Board Chair will leave Vietnam in June 2020 for another amazing journey in Korea.
We have been so grateful and honored having Rod in all our meaningful programs to bring educational opportunities to our vulnerable children and communities for the last three years. His leadership, passion and devotion motivate us to reflect and redefine what should be done better so that each child can access quality education because education is a fundamental human right.
Thank you, our great Chair and Friend. We wish you and all your loved ones good health and all the best in the coming journey.
Loreto Vietnam would like to share Rod's letter to our Loreto family, friends and supporters.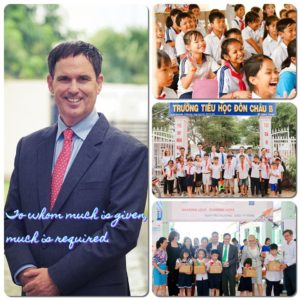 "Loreto Vietnam is an Australian INGO that focuses on improving access to quality education for the most disadvantaged, especially children and women. It does so because we believes that through education, opportunity and capacity building are created, and so lives can be changed for the better.
We do believe in the power of education for change. From building classrooms, equipping computers, books, learning resources, distributing bicycle and helmet, renovating safe and clean toilet blocks, promoting inclusive education, to various capacity building initiatives, we're side by side with donors, local partners, teachers, students and communities to pave the way for our
children to access quality education for their future and their communities.
Since joining Loreto Vietnam as a Board member in 2017 and then as Chair in October 2018, I have felt privileged to have been able to support 42 projects impacting more than 25,000 children.
It has been a challenging journey but to see the smiling faces of children when getting new school packs, bicycles and helmets, studying in new and safe schools, enjoying books and computer lessons makes it all worthwhile.
I have always believed that, "to whom much is given, much is required" so it has been a pleasure to give in this way. There are few greater purposes than to give children hope and opportunity.
My thanks to fellow board members, the staff, Loreto Ministries Australia, and of course to donors, for your support. It does make a difference. The journey never ends and I encourage you to keep supporting the wonderful work of Loreto Vietnam."